TBranch Woodworking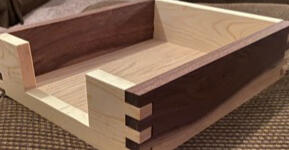 Welcome To My Shop!!! Here you will find some photos of my work, a way to contact me, and links to my Instagram and Facebook Page so you can see what I am currently working on!!
---
About Me
I was born and raised in mid-Missouri and had two great working class parents. My mother was the creative one and my father was the carpenter in the family. Between the two of them and their influences I feel like this was the road I was heading down one way or another!

I found myself sitting in a three bedroom rental house with little to no furniture. I thought it might be a good time to put those influences to work. Before I knew it my garage was full of material and I was working day and night like a mad man.

What it made me realize was how much big box stores charge for the same stuff and the quality was very low. Many of them use particle board or pressed boards and the first time they get wet.... well you might as well throw that thing out!

This avenue allows me to create what you want, insures a fair price, and by using solid materials the quality is much, much better.
---
Photo Gallery
---
Ways To Contact Me